The leading edge reputation and stakeholder support analytics
Get your reputation quantified
Trusted by the leading players Relevant Metrics
Reputation is identified to be the most important driver of competitiveness by top companies. Reputation&Trust provides you with structured reputation data so you can approach reputation management with confidence.
Financial Performance
2.57
3.76
8 Dimensions of Reputation
Governance
Governance measures how the company operates, whether its actions are transparent and fair.
Financial Performance
Financial performance explores financial aspects of the business.
Leadership
Leadership investigates the management of the company.
Innovations
Innovations dimension reveals perceptions about the company's innovativeness.
Dialogue
Dialogue discloses the company's ability to communicate with their stakeholders.
Products & Services
Products & Services measures whether stakeholders perceive the company's offering as valuable.
Workplace
Workplace studies the employer image of the company.
Responsibility
Responsibility explores people's perceptions of the company's considerations over societal issues.
Actionable
Reputation&Trust helps you focus on actions that effectively build your stakeholder support. The model helps you to prioritise your actions by disclosing the most impactful reputation dimensions in relation to your business or operations.
"The results they have provided us with have been genuinely helpful. Reputation&Trust's strengths include a clear framework and a strategic approach."

Arja Suominen
SVP, Corporate Communications and Corporate Responsibility at Finnair, the largest airline in Finland
Data-driven decision making tool
Our proven statistical model transforms reputation into manageable performance metrics. You can accurately track the development of your reputation and benchmark against industry averages and competition. You can set and share measurable objectives with executives, directors and people working with corporate relations and communications.
Detailed, but easy to understand
We will provide you with a detailed report and analysis of your current situation. Due to our clear data visualisations, the study results are easy to understand, and the research can be effortlessly used by the entire organisation.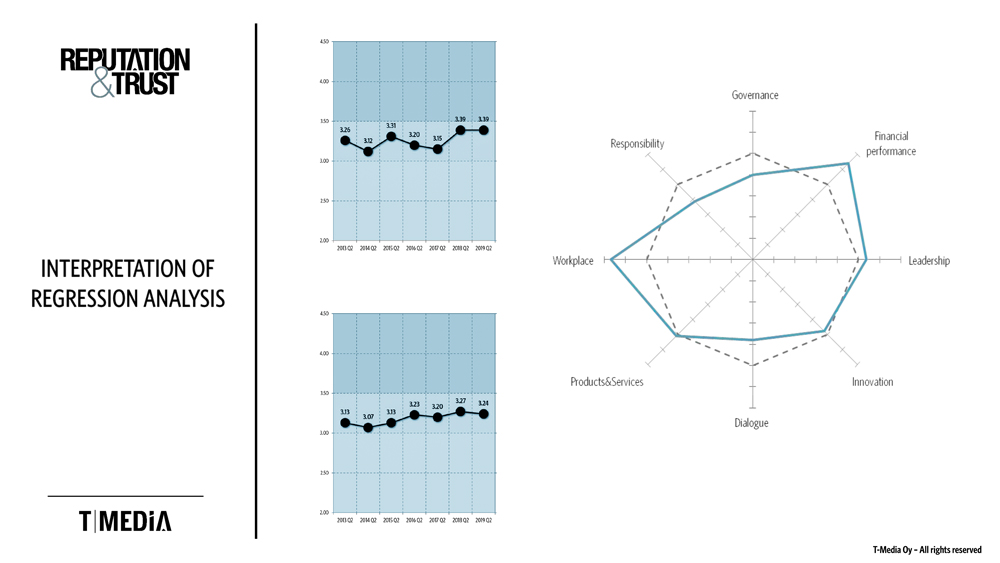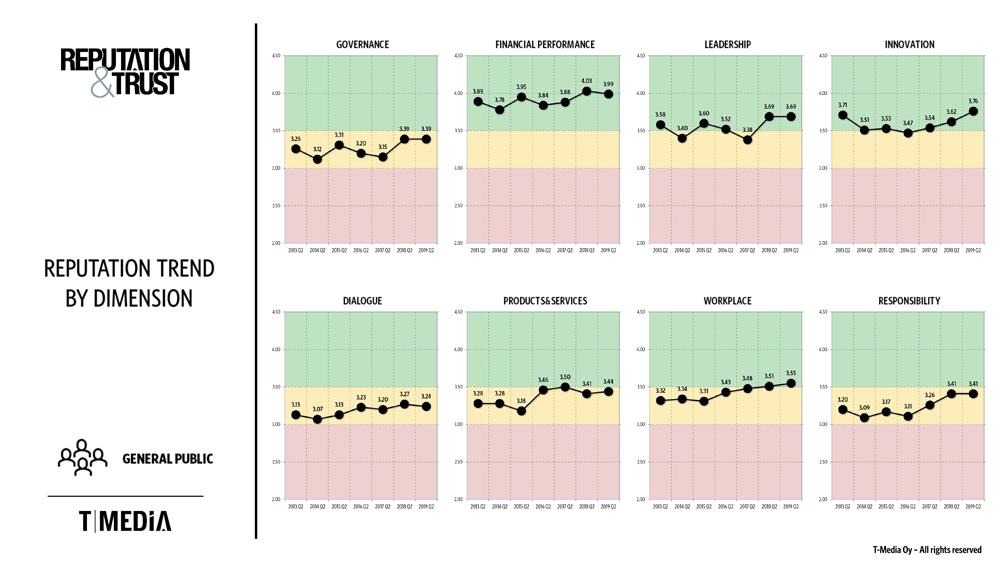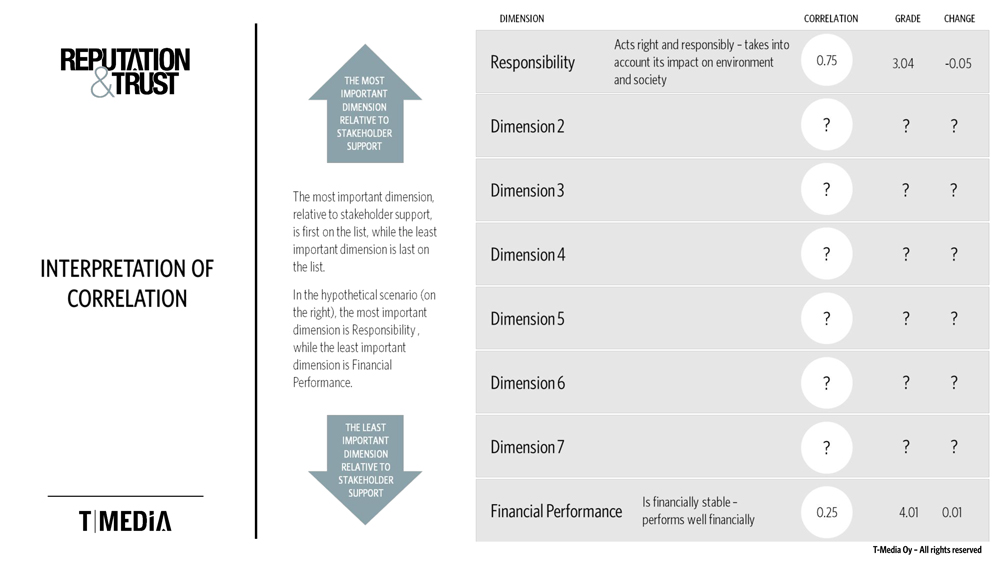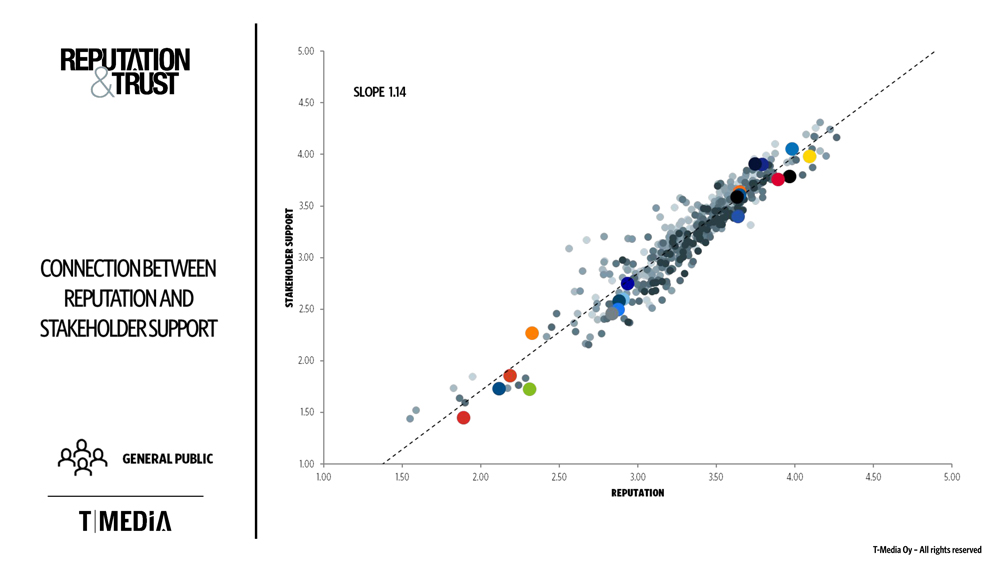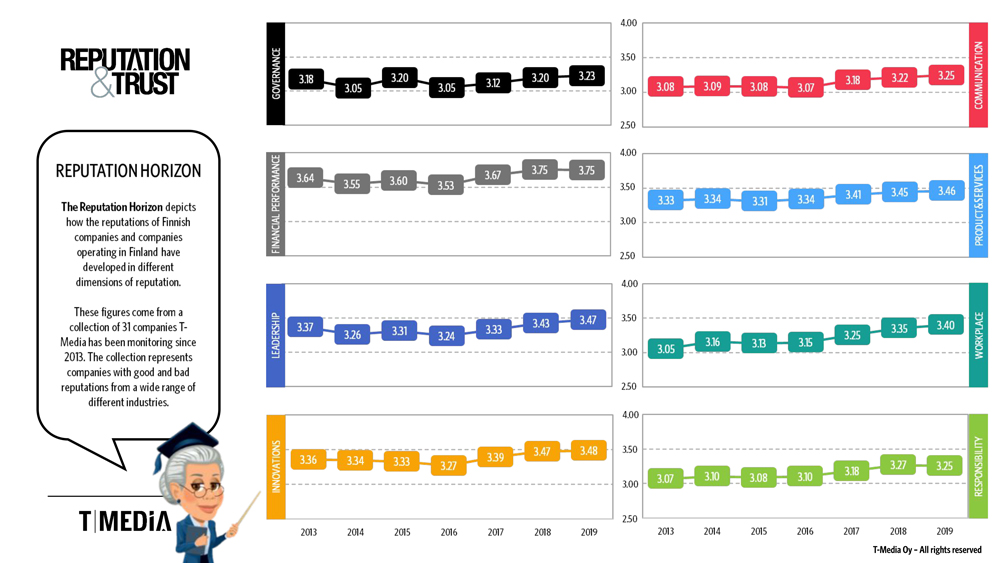 "The research team is applying the latest academic knowledge in their approach. Applying these techniques should allow organisations to build data-driven strategies and stakeholder engagements that add value for both business and society" Professor Kevin Money
Co-Director, the John Madejski Centre for Reputation, Henley Business School
Quantify your reputation
Interested? Contact us or leave your contact details and let's discuss how we can help you.
Sweden
Comma
+46 70 710 69 79
info(a)comma.se
Finland & Global
T-Media
+358 50 512 4089
research(a)t-media.fi